Lambda Launches New Hyperplane Server with NVIDIA H100 GPUs and AMD EPYC 9004 series CPUs
---

Maxx Garrison
---
1 min read
---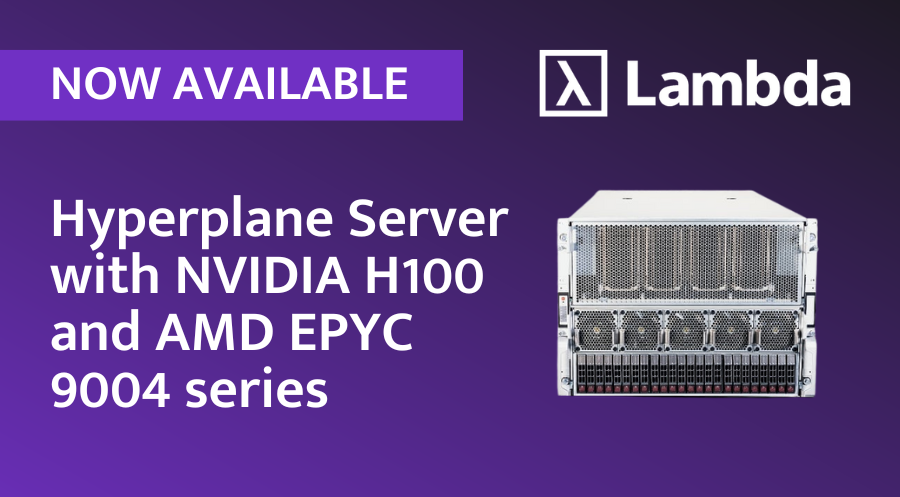 Lambda has launched a new Hyperplane server with NVIDIA H100 GPUs and AMD EPYC 9004 series CPUs. The new AI server combines the fastest GPU type on the market, NVIDIA H100, with the world's best data center CPU, AMD EPYC 9004, to deliver unprecedented performance, scalability, and security for every workload. This enables Lambda customers to train and run inference faster with enhanced performance per dollar.
The new HGX H100 servers with AMD CPUs are shipping now, available in Lambda Cloud Clusters starting at $1.89 per H100 per hour, as well as in on-prem Hyperplane Servers and Clusters.
Hyperplane 8-H100 HGX Server Specs
Hyperplane 8-H100 HGX platform with AMD EPYC 9004
8x NVIDIA H100 SXM Tensor Core GPUs
NVLink and NVSwitch fabric for distributed training
Dual AMD EPYC 9004 CPUs with up to 256 cores total
Up to 6TB of DDR5 system memory and 480TB of local NVMe storage
12x PCIe Gen 5 expansion slots supporting up to 400Gb networking
HGX system architecture with 1:1 NIC-to-GPU ratio for scalable GPUDirect RDMA
NVIDIA HGX H100 servers with AMD CPUs in Lambda Cloud Clusters
Lambda Cloud Clusters are designed for 64 - 2,040+ NVIDIA H100 GPUs in a single non-blocking NVIDIA Quantum-2 InfiniBand network. Lambda's dedicated HGX H100 clusters feature 80GB NVIDIA H100 SXM5 GPUs at $1.89/GPU/hour. Now, with the release of the new Lambda Hyperplane server, Lambda customers have the option to equip their systems with 4th generation AMD EPYC 9004 Series processors that have up to 128 cores per CPU. The new server enables faster training times and better performance per dollar on Generative AI models and other distributed training applications.