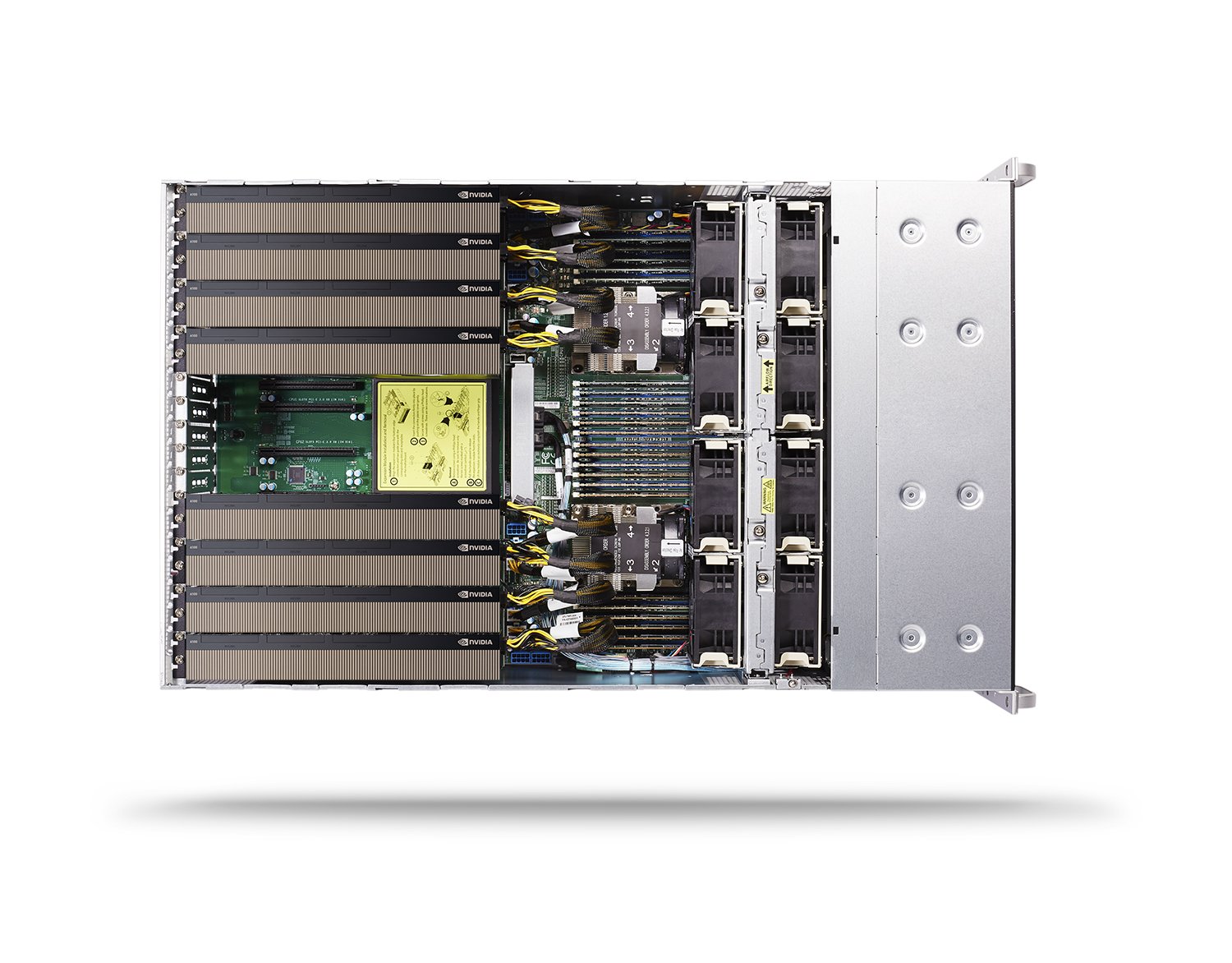 The ultimate GPU server for
deep learning
Now available with NVIDIA H100 Tensor Core GPUs

10,000+ research teams trust Lambda
Lambda Scalar

powered by NVIDIA H100 GPUs
NOW AVAILABLE
Lambda Scalar servers comes with the new NVIDIA H100 Tensor Core GPUs and delivers unprecedented performance, scalability, and security for every workload. NVIDIA H100 GPUs feature fourth-generation Tensor Cores and the Transformer Engine with FP8 precision, further extending NVIDIA's market-leading AI leadership with faster training and inference speedup on large language models.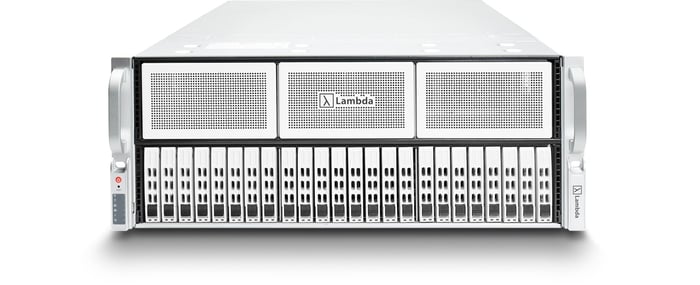 Engineered for
your workload
Tell us about your research and we'll design a machine that's perfectly tailored to your needs.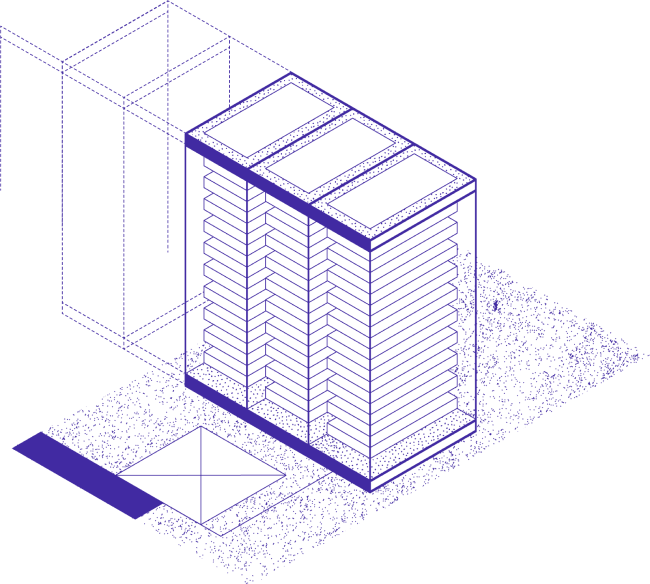 Easily scale from
server to cluster
As your team's compute needs grow, Lambda's in-house HPC engineers and AI researchers can help you integrate Scalar and Hyperplane servers into GPU clusters designed for deep learning.
Compute

Scaling to 1000s of GPUs for distributed training or hyperparameter optimization.

Storage

High-performance parallel file systems optimized for ML.

Networking

Compute and storage fabrics for GPUDirect RDMA and GPUDirect Storage.

Software

Fully integrated software stack for MLOps and cluster management.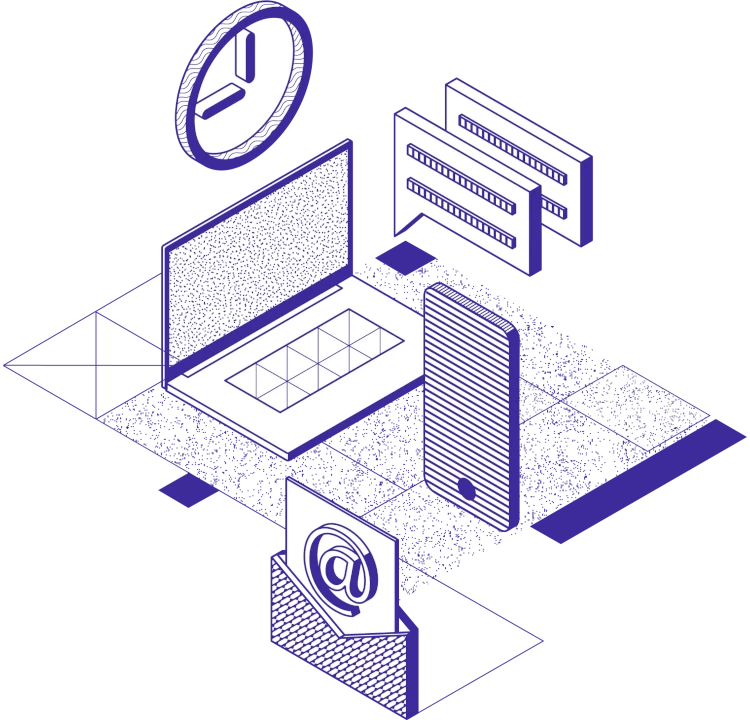 Service and support by technical experts who specialize in
machine learning
Lambda Premium Support includes:
Up to 5 year extended warranty with advanced parts replacement
Live technical support from Lambda's team of ML engineers
Support for ML software included in Lambda Stack: PyTorch®, Tensorflow, CUDA, CuDNN, and NVIDIA Drivers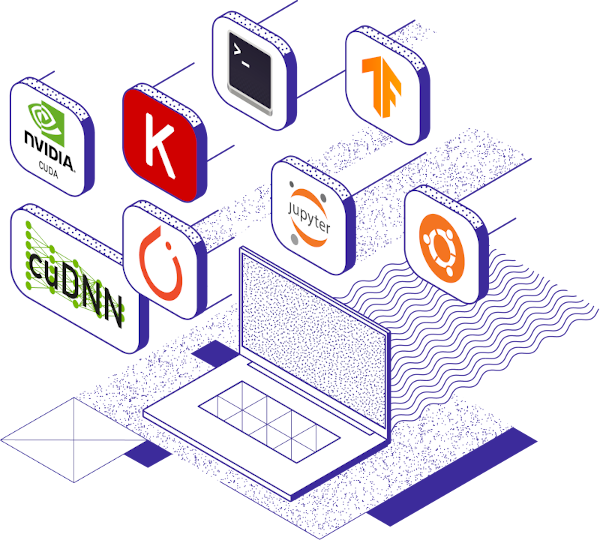 Plug in.
Start training.
Our servers include Lambda Stack, which manages frameworks like PyTorch® and TensorFlow. With Lambda Stack, you can stop worrying about broken GPU drivers and focus on your research.
Zero configuration required

All your favorite frameworks come pre-installed.

Easily upgrade PyTorch® and TensorFlow

When a new version is released, just run a simple upgrade command.

No more broken GPU drivers

Drivers will "just work" and keep compatible with popular frameworks.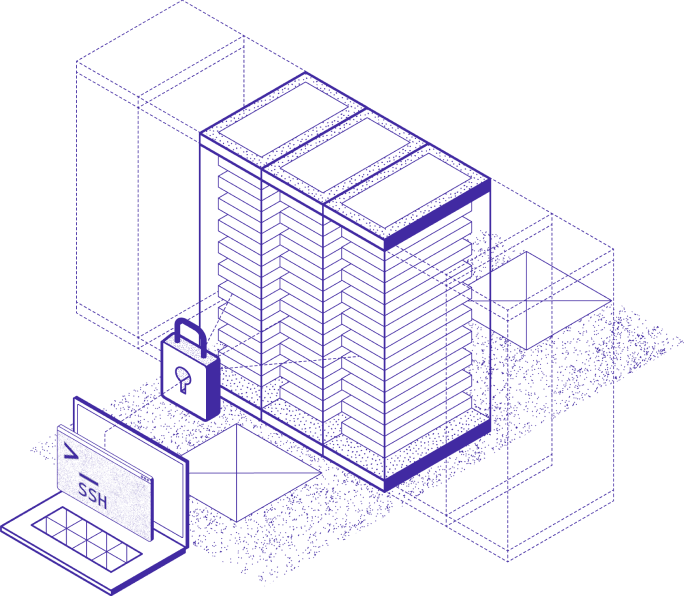 Your servers.
Our datacenter.
Lambda Colocation makes it easy to deploy and scale your machine learning infrastructure. We'll manage racking, networking, power, cooling, hardware failures, and physical security. Your servers will run in a Tier 3 data center with state-of-the-art cooling that's designed for GPUs. You'll get remote access to your servers, just like a public cloud.
Fast support
If hardware fails, our on-premise data center engineers can quickly debug and replace parts.
Optimal performance
Our state-of-the-art cooling keeps your GPUs cool to maximize performance and longevity.
High availability
Our Tier 3 data center has redundant power and cooling to ensure your servers stay online.
No network set up
We handle all network configuration and provide you with remote access to your servers.
Up to 8 dual-slot PCIe GPUs. Options include:
NVIDIA A100: 80 GB of HBM2e, 6,912 CUDA cores, 432 Tensor Cores, PCIe 4.0 x16
NVIDIA L40: 48 GB of GDDR6, 18,176 CUDA cores, 568 Tensor Cores, PCIe 4.0 x16
NVIDIA A40: 48 GB of GDDR6, 10,752 CUDA cores, 336 Tensor Cores, PCIe 4.0 x16
NVIDIA A30: 24 GB of GDDR6, 3,584 CUDA cores, 224 Tensor Cores, PCIe 4.0 x16
NVIDIA RTX 6000 Ada: 48 GB of GDDR6, 18,176 CUDA cores, 568 Tensor Cores, PCIe 4.0 x16
NVIDIA RTX A6000: 48 GB of GDDR6, 10,752 CUDA cores, 336 Tensor Cores, PCIe 4.0 x16
NVIDIA RTX A5500: 24 GB of GDDR6, 10,240 CUDA cores, 320 Tensor Cores, PCIe 4.0 x16
NVIDIA RTX A5000: 24 GB of GDDR6, 8,192 CUDA cores, 256 Tensor Cores, PCIe 4.0 x16
NVIDIA RTX A4500: 20 GB of GDDR6, 7,168 CUDA cores, 224 Tensor Cores, PCIe 4.0 x16
NVIDIA RTX A4000: 16 GB of GDDR6, 6,144 CUDA cores, 192 Tensor Cores, PCIe 4.0 x16
2 AMD EPYC™ or Intel Xeon Processors
AMD EPYC 7003 (Milan) Series Processors with up to 128 cores total
Intel Xeon 3rd Gen (Ice Lake) Scalable Processors with up to 80 cores total
Up to 8 TB of 3200 MHz DDR4 ECC RAM in 32 DIMM slots
Up to 245.76 TB of storage via 8 hot-swappable U.2 NVMe SSDs
Up to 122.88 TB of storage via 16 hot-swappable 2.5" SATA SSDs
Built-in networking:
2 RJ45 1 Gbps BASE-T LAN ports
1 RJ45 1 Gbps BASE-T LAN out-of-band management port

Optional high-speed NIC. Options include:
NVIDIA ConnectX-6 200 Gb/s HDR InfiniBand/VPI Adapter, QSFP56, PCIe 4.0 x16
NVIDIA ConnectX-6 100 Gb/s HDR100 InfiniBand/VPI Adapter, 1x QSFP56, PCIe 4.0 x16
NVIDIA ConnectX-6 Dx EN 200 Gb/s Ethernet Adapter, QSFP56, PCIe 4.0 x16
NVIDIA ConnectX-6 Dx EN 100 Gb/s Ethernet Adapter, QSFP56, PCIe 4.0 x16
NVIDIA ConnectX-5 EN 100 Gb/s Ethernet Adapter, QSFP28, PCIe 3.0 x16
4 hot-swappable 2000 watt 80 PLUS Titanium PSUs
2 + 2 redundancy

AC input:
220-240 Vac / 10-9.8A / 50-60 Hz

Max output per PSU:
220-240Vac / 2000 watts
Power button
Reset button
Power LED
ID button with LED
Information LED
Power supply failure LED
2 LAN activity LEDs
Storage drive activity LED
VGA port
2 USB 3.0 ports
2 RJ45 1 Gbps BASE-T LAN ports
1 RJ45 1 Gbps BASE-T LAN out-of-band management port
Rackmounting kit

4 configurable C19 power cables
Form factor: 4U rackmount
Width: 17.2 inches (437 mm)
Height: 7.0 inches (179 mm)
Depth: 29.0 inches (737 mm)
Server weight: 73 lbs (33 kg)
Rackmounting kit weight: 5 lbs (2.3 kg)
Total weight with packaging: 99 lbs (45 kg)
Up to 10 dual-slot PCIe GPUs. Options include:
NVIDIA H100: 80 GB of HBM3, 14,592 CUDA cores, 456 Tensor Cores, PCIe 5.0 x16
NVIDIA A100: 80 GB of HBM2e, 6,912 CUDA cores, 432 Tensor Cores, PCIe 4.0 x16
NVIDIA L40: 48 GB of GDDR6, 18,176 CUDA cores, 568 Tensor Cores, PCIe 4.0 x16
NVIDIA A40: 48 GB of GDDR6, 10,752 CUDA cores, 336 Tensor Cores, PCIe 4.0 x16
NVIDIA A30: 24 GB of GDDR6, 3,584 CUDA cores, 224 Tensor Cores, PCIe 4.0 x16
NVIDIA RTX 6000 Ada: 48 GB of GDDR6, 18,176 CUDA cores, 568 Tensor Cores, PCIe 4.0 x16
NVIDIA RTX A6000: 48 GB of GDDR6, 10,752 CUDA cores, 336 Tensor Cores, PCIe 4.0 x16
NVIDIA RTX A5500: 24 GB of GDDR6, 10,240 CUDA cores, 320 Tensor Cores, PCIe 4.0 x16
NVIDIA RTX A5000: 24 GB of GDDR6, 8,192 CUDA cores, 256 Tensor Cores, PCIe 4.0 x16
NVIDIA RTX A4500: 20 GB of GDDR6, 7,168 CUDA cores, 224 Tensor Cores, PCIe 4.0 x16
NVIDIA RTX A4000: 16 GB of GDDR6, 6,144 CUDA cores, 192 Tensor Cores, PCIe 4.0 x16
2 AMD EPYC or Intel Xeon Processors
AMD EPYC 7004 (Genoa) Series Processors with up to 192 cores total
Intel Xeon 4th Gen (Sapphire Rapids) Scalable Processors with up to 112 cores total
Up to 8 TB of 4800 MHz DDR5 ECC RAM in 32 DIMM slots
Up to 491.52 TB of storage via 16 hot-swappable U.2 NVMe SSDs
Up to 61.44 TB of storage via 8 hot-swappable 2.5" SATA SSDs
Built-in networking:
2 RJ45 10 Gbps BASE-T LAN ports
1 RJ45 1 Gbps BASE-T LAN out-of-band management port
Optional high-speed NIC. Options include:
NVIDIA ConnectX-7 400 Gb/s NDR InfiniBand Adapter, OSFP56, PCIe 5.0 x16
NVIDIA ConnectX-7 200 Gb/s NDR200 InfiniBand Adapter, OSFP56, PCIe 5.0 x16
NVIDIA ConnectX-7 200 Gb/s NDR200 InfiniBand/VPI Adapter, QSFP112, PCIe 5.0 x16
NVIDIA ConnectX-6 200 Gb/s HDR InfiniBand/VPI Adapter, QSFP56, PCIe 4.0 x16
NVIDIA ConnectX-6 100 Gb/s HDR100 InfiniBand/VPI Adapter, 1x QSFP56, PCIe 4.0 x16
NVIDIA ConnectX-6 Dx EN 200 Gb/s Ethernet Adapter, QSFP56, PCIe 4.0 x16
NVIDIA ConnectX-6 Dx EN 100 Gb/s Ethernet Adapter, QSFP56, PCIe 4.0 x16
NVIDIA ConnectX-5 EN 100 Gb/s Ethernet Adapter, QSFP28, PCIe 3.0 x16
4 hot-swappable 2000 watt 80 PLUS Titanium PSUs
2 + 2 redundancy
AC input:
220-240 Vac / 10-9.8A / 50-60 Hz
Max output per PSU:
Power button
Reset button
Power LED
ID button with LED
Information LED
Power supply failure LED
2 LAN activity LEDs, one for each RJ45 1
Gbps BASE-T LAN port
Storage drive activity LED
VGA port
2 USB 3.0 ports
2 RJ45 10 Gbps BASE-T LAN ports
1 RJ45 1 Gbps BASE-T LAN out-of-band management port
Rackmounting kit
4 configurable C19 power cables
Form factor: 4U rackmount
Width: 17.2 inches (437 mm)
Height: 7.0 inches (179 mm)
Depth: 29.0 inches (737 mm)
Server weight: 73 lbs (33 kg)
Rackmounting kit weight: 5 lbs (2.3 kg)
Total weight with packaging: 99 lbs (45 kg)