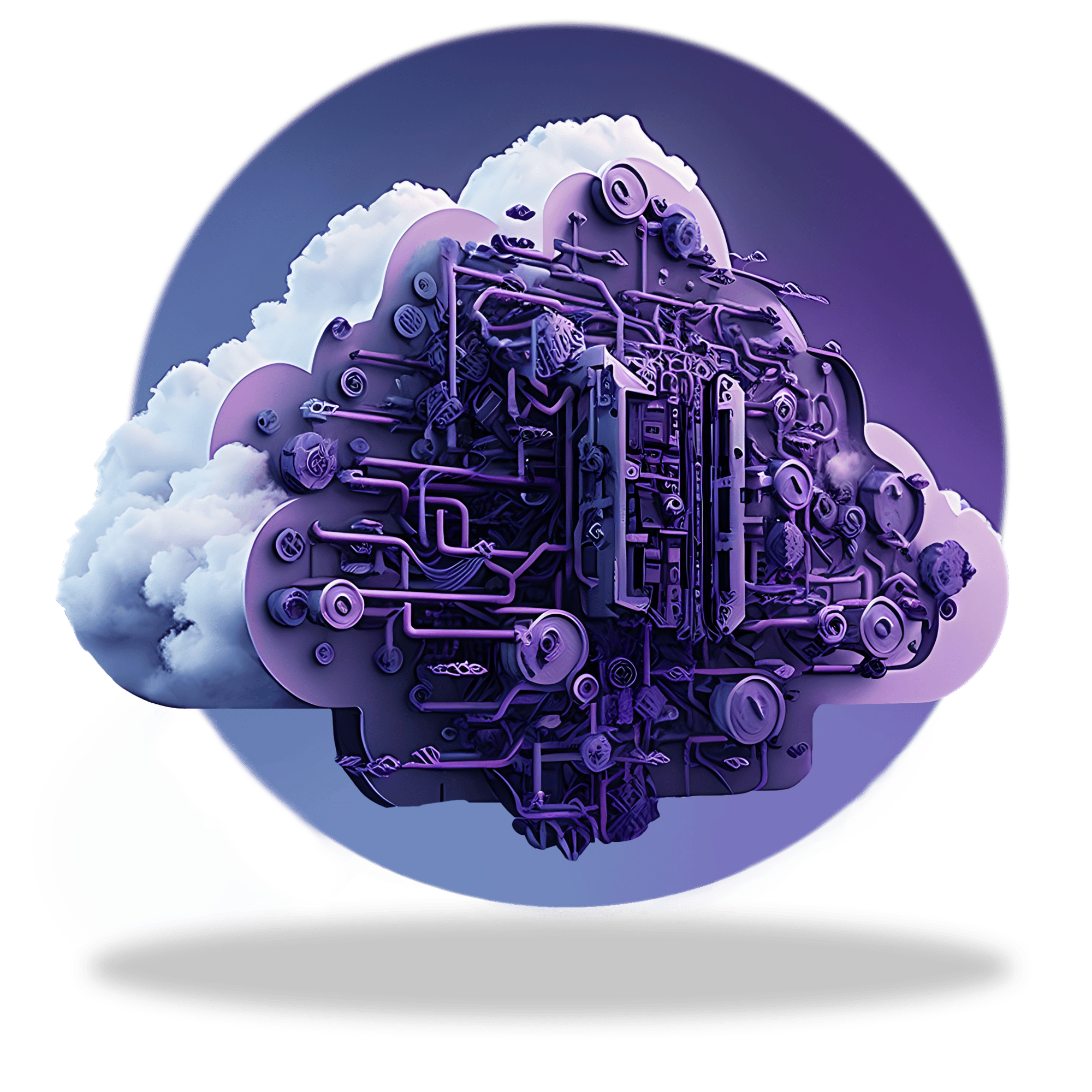 Reserve thousands of cloud NVIDIA H100s for just $1.89/hr
Train Foundation Models and LLMs with Lambda Cloud Clusters featuring NVIDIA H100 + 3200 Gbps Infiniband
TRUSTED BY FORTUNE 500 COMPANIES & AI STARTUPS
Finally, cloud computing designed for large scale model training
Lambda Cloud Clusters are designed for machine learning engineers who need high-performance networking and enterprise-grade GPUs.
Our network architecture is designed for non-blocking, which allows your ML team to spin up one large model across 255 NVIDIA H100 servers with no disruption in networking speed.
NVIDIA H100 SXM
Featuring fourth-generation Tensor Cores, Transformer Engine with FP8 precision and second-generation Multi-Instance GPU technology. Learn more.
3200 Gbps
3200 Gbps NDR InfiniBand fabric provides extremely high throughput, low latency and RDMA, allowing for the absolute fastest data transfers between compute nodes and storage.
Non-Blocking InfiniBand
Non-Blocking allows for every input to be forwarded to an output simultaneously without any blocking or delays. This enables higher throughput and lower latency.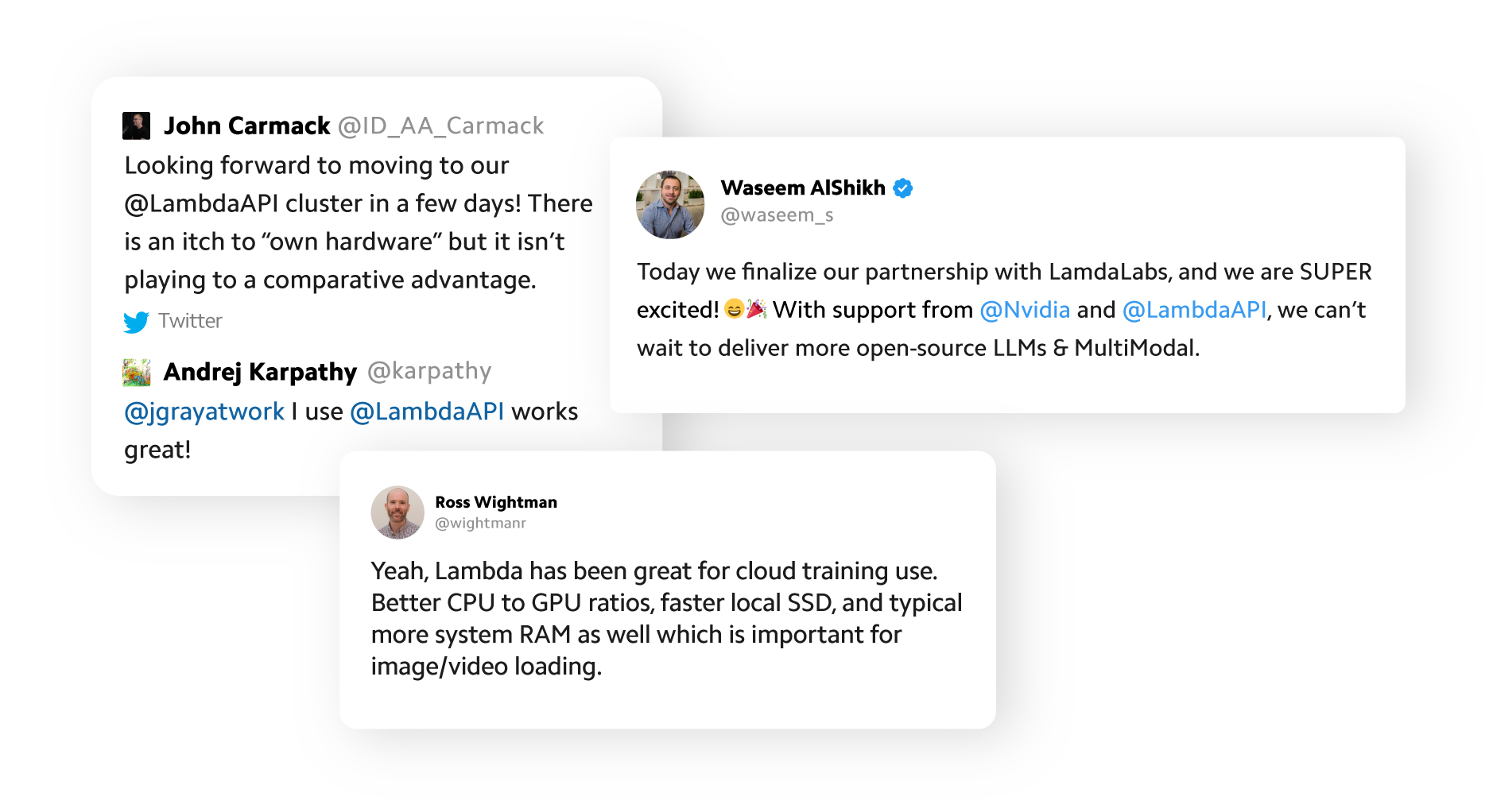 Trusted by world-renowned AI engineers
Lambda's Cloud is used by industry pioneers who have shaped modern deep learning and continue to push what's possible in computer vision, natural language and robotics.
The only cloud prioritizing flexibility and value for ML teams
Reserved
Secure the #1 GPU Cluster architecture at the lowest public price in the world.
# of GPUs: 64 to 10,000

3-Year Contract: $1.89/GPU/hr
1-2 Year Contracts: Contact Sales
Sprint
Get access to an NVIDIA H100 Cloud Cluster designed to do one thing: train an LLM or Foundation Model in record time.

# of GPUs: 248
$4.85/H100/Hour
Maximum Term: 3 Months
Lambda Cloud Clusters

powered by NVIDIA H100 GPUs
NOW AVAILABLE
Lambda Cloud Clusters come with NVIDIA H100 Tensor Core GPUs and deliver unprecedented performance, scalability, and security for every workload. NVIDIA H100 uses breakthrough innovations in the NVIDIA Hopper™ architecture to deliver industry-leading conversational AI and speeds up large language models.
Lambda is proud to be an NVIDIA Elite Cloud Solutions Provider
Lambda has been awarded 2023 Americas NVIDIA Partner Network Solution Integration Partner Of The Year for three consecutive years.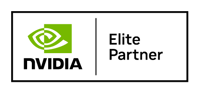 "Leading enterprises recognize the incredible capabilities of AI and are building it into their operations to transform customer service, sales, operations, and many other key functions. Lambda's deep expertise, combined with cutting-edge NVIDIA technology, is helping customers create flexible, scalable AI deployments on premises, in the cloud, or at a colocation data center."
Craig Weinstein, Vice President of the Americas Partner Organization
The fastest network for distributed training of LLMs, foundation models & generative AI
Train large generative models and LLMs with the fastest networking available by any cloud provider. Our 3200 Gbps Infiniband networking is purpose built for GPU Direct inter-node bandwith, RDMA and distributed training.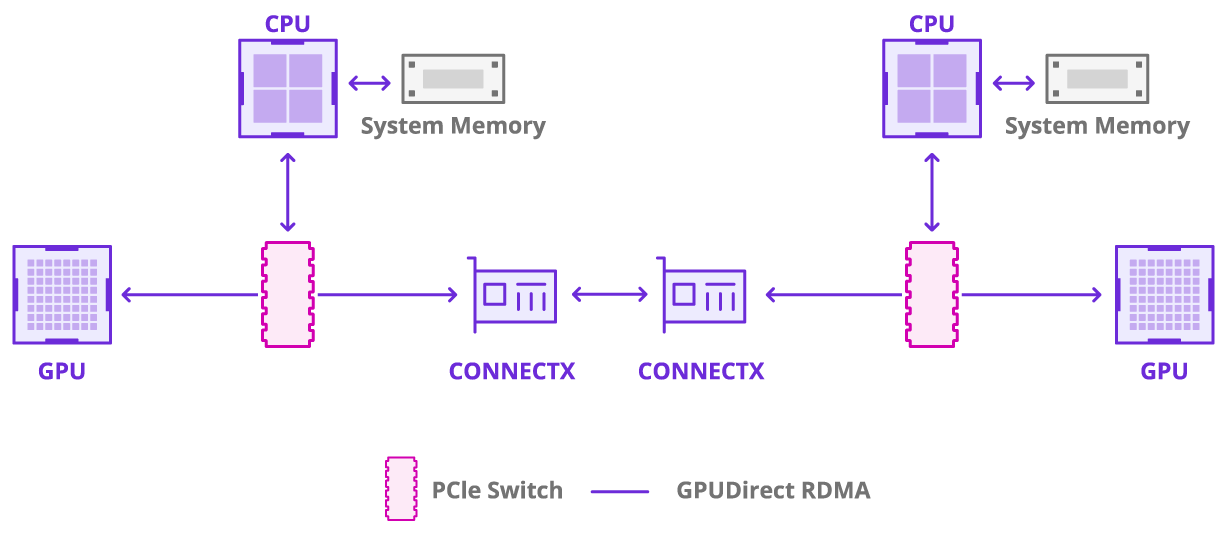 Skip the CPU and take advantage of GPUDirect RDMA for the fastest distributed training
A direct communication path between NVIDIA GPUs across all nodes in your cluster using InfiniBand.
GPUDirect RDMA provides a significant decrease in GPU-GPU communication latency and completely offloads the CPU, removing it from all GPU-GPU communications across the network.
The best prices and value for NVIDIA H100 clusters in the industry
| | Instance type | GPU | GPU Memory | vCPUs | Storage | Network Bandwidth (Gbps) | Per Hour Price | Term | # of GPUs |
| --- | --- | --- | --- | --- | --- | --- | --- | --- | --- |
| Reserved | 8x NVIDIA H100 | H100 SXM | 80 GB | 200 | 20 TB NVMe SSD local storage minimum | 3200 | $1.89/H100/hour | 3-years | 64 - 60,000 |
| Sprint | 8x NVIDIA H100 | H100 SXM | 80 GB | 224 | 27 TB NVMe SSD local storage minimum | 3200 | $4.85/H100/hour | 3-months | 248 |
Pre-configured for machine learning
Start training your models immediately with pre-configured software, shared storage, and networking for deep learning. All you have to do is choose your GPU nodes and CPU nodes.
Lambda Premium Support for Cloud Clusters includes PyTorch, TensorFlow, CUDA, cudNN, Keras and Jupyter. Kubernetes is not included.
Lambda On-Demand Cloud

powered by NVIDIA H100 GPUs
NOW AVAILABLE
On-demand HGX H100 systems with 8x NVIDIA H100 SXM GPUs are now available on Lambda Cloud for only $2.59/hr/GPU. With H100 SXM you get:
More flexibility for users looking for more compute power to build and fine-tune generative AI models
Enhanced scalability
High-bandwidth GPU-to-GPU communication
Optimal performance density
Lambda Cloud also has 1x NVIDIA H100 PCIe GPU instances at just $1.99/hr/GPU for smaller experiments.