The fastest access to enterprise-grade cloud GPUs
On-demand NVIDIA GPUs for AI training, fine-tuning & inference
TRUSTED BY FORTUNE 500 COMPANIES & AI STARTUPS
Train & fine-tune models on a GPU cloud built for AI workloads
NVIDIA GPUs
Featuring access to NVIDIA H100, A100 & A10 Tensor Core GPUs. Additional instance types include NVIDIA RTX A6000, RTX 6000 & NVIDIA V100 Tensor Core GPU.
Multi-GPU instances
Train and fine-tune AI models across instance types that make sense for your workload & budget: 1x, 2x, 4x & 8x NVIDIA GPU instances available.
Lambda Cloud API
Launch, terminate and restart instances from an easy-to-use developer-friendly API. Find out more in our API developer docs.
Trusted by thousands of AI Developers
ML Engineers & Researchers love Lambda On-Demand Cloud for its simplicity, speed & ML-first user experience.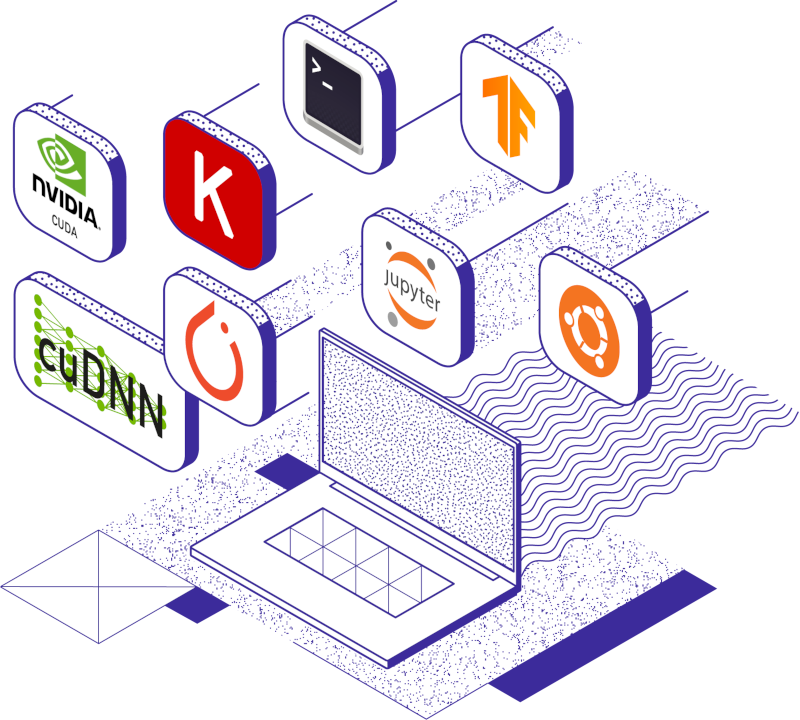 GPU instances pre-configured for machine learning
One-click Jupyter access
Quickly connect to NVIDIA GPU instances directly from your browser.
Pre-installed with popular ML frameworks
Ubuntu, TensorFlow, PyTorch, NVIDIA CUDA, and NVIDIA cuDNN come ready to use with Lambda Stack.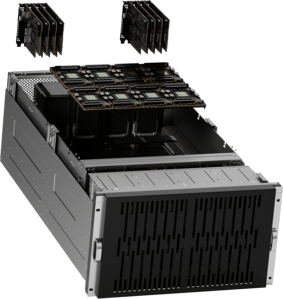 NVIDIA H100s are now available on-demand
Lambda is is one of the first cloud providers to make NVIDIA H100 Tensor Core GPUs available on-demand in a public cloud.
Starting at
$1.99/GPU/Hour
High-speed filesystem for GPU instances
Create filesystems in Lambda On-Demand Cloud to persist files and data with your compute.
Scalable performance: Adapts to growing storage needs without compromising speed.
Cost-efficient: Only pay for the storage you use, optimizing budget allocation.*
No limitations: No ingress, no egress and no hard limit on how much you can store.
*Texas region persistent storage will remain free until the end of 2023.
| Storage | Rate |
| --- | --- |
| Shared filesystems | $0.20 / GB / month |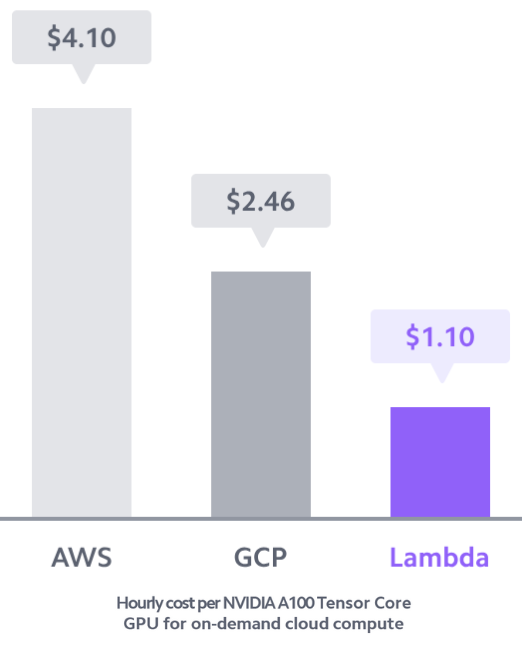 Save over 73% on your cloud bill
Pay-by-the-second billing
Only pay when your instance is running.
Simple, transparent pricing
No hidden fees like data egress or ingress.


GPUs

VRAM per GPU

vCPUs

RAM

Storage

Price

8x NVIDIA H100 SXM

New

80 GB
208
1800 GiB
26 TiB SSD
$20.72 / hr
1x NVIDIA H100 PCIe

New

80 GB
26
200 GiB
1 TiB SSD
$1.99 / hr
8x NVIDIA A100 SXM
80 GB
240
1800 GiB
20 TiB SSD
$12.00 / hr
8x NVIDIA A100 SXM
40 GB
124
1800 GiB
6 TiB SSD
$8.80 / hr
1x NVIDIA A100 SXM
40 GB
30
200 GiB
512 GiB SSD
$1.10 / hr
4x NVIDIA A100 PCIe
40 GB
120
800 GiB
1 TiB SSD
$4.40 / hr
2x NVIDIA A100 PCIe
40 GB
60
400 GiB
1 TiB SSD
$2.20 / hr
1x NVIDIA A100 PCIe
40 GB
30
200 GiB
512 GiB SSD
$1.10 / hr
1x NVIDIA A10
24 GB
30
200 GiB
1.4 TiB SSD
$0.60 / hr
4x NVIDIA A6000
48 GB
56
400 GiB
1 TiB SSD
$3.20 / hr
2x NVIDIA A6000
48 GB
28
200 GiB
1 TiB SSD
$1.60 / hr
1x NVIDIA A6000
48 GB
14
100 GiB
200 GiB SSD
$0.80 / hr
8x NVIDIA Tesla V100
16 GB
92
448 GiB
5.9 TiB SSD
$4.40 / hr
1x NVIDIA Quadro RTX 6000
24 GB
14
46 GiB
512 GiB SSD
$0.50 / hr
Reserved Cloud Cluster pricing
The best prices and value for GPU cloud clusters in the industry
| | Instance type | GPU | GPU Memory | vCPUs | Storage | Network Bandwidth | Per Hour Price | Term | # of GPUs |
| --- | --- | --- | --- | --- | --- | --- | --- | --- | --- |
| NVIDIA H100 | 8x NVIDIA H100 | H100 SXM | 80 GB | 224 | 30 TB local per 8x H100 | 3200 Gbps per 8x H100 | $1.89/H100/hour | 3 years | 64 - 32,000 |
| NVIDIA H200 | 8x NVIDIA H200 | H200 SXM | 141 GB | 224 | 30 TB local per 8x H200 | 3200 Gbps per 8x H200 | Contact Sales | 3 years | 64 - 32,000 |
| NVIDIA GH200 | 1x NVIDIA GH200 | GH200 Superchip | 96 GB | 72 | 30 TB local per GH200 | 400 Gbps per GH200 | $5.99 /GH200/hour | 3-12 months | 10 or 20 |