GPU clusters designed for
deep learning
Now available with NVIDIA H100 Tensor Core GPUs
Fully-integrated clusters optimized for the most challenging AI workloads and backed by Lambda Support.



10,000+ research teams trust Lambda
Lambda Echelon

powered by NVIDIA H100 GPUs
NOW AVAILABLE
Lambda Echelon clusters come with the new NVIDIA H100 Tensor Core GPUs and delivers unprecedented performance, scalability, and security for every workload. The NVIDIA H100 is an integral part of the NVIDIA data center platform. Built for AI, HPC, and data analytics, the platform accelerates over 3,000 applications, and is available everywhere from data center to edge, delivering both dramatic performance gains and cost-saving opportunities.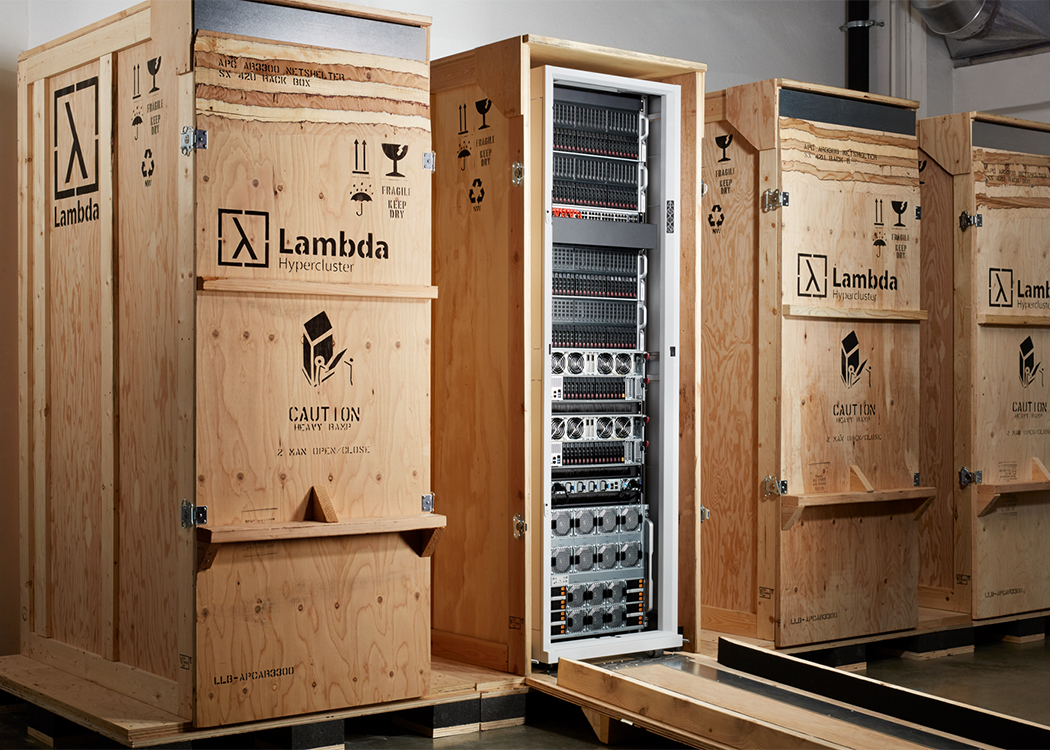 Lambda Echelon GPU clusters
Pre-engineered and optimized for deep learning training

Fully-integrated compute, storage, networking and MLOps tools

Delivered in hours to weeks instead of months

End-to-end support from Lambda's IT & ML engineers

Lambda is the single vendor for your entire cluster: hardware, software, infrastructure, install, support, and expansion
Flexible deployment options

to meet your team's needs
Cloud: Reserve a fully-integrated cluster in Lambda's cloud
Available in minutes/hours.
Lambda's Reserved Cloud Clusters provide dedicated GPU clusters with the same networking and storage as our on-prem and colo systems. Access can be granted in a matter of hours with contract lengths starting at six months.
Colocation: Your cluster installed in lambda's data center
Available in hours/days.
Deploy faster by leveraging Lambda's data center infrastructure optimized for next-gen GPU clusters. Colo clusters are installed and supported on-site by Lambda's engineering team, reducing downtime and allowing for easy upgrades and servicing.
On-prem: Your cluster installed in your data center

Available in days/weeks.
Echelon clusters are delivered fully racked, configured, and ready for Lambda to install in your data center. We work with your infrastructure and IT teams to comply with power, cooling, and integration requirements.
Engineered to scale

from a single rack to an AI supercomputer

Echelon clusters come fully integrated with high-bandwidth networking, high-performance parallel storage, cluster management, and optional MLOps platforms. Designed with NVIDIA PCIe, HGX, or DGX GPU compute nodes to target your performance, workload, software, and budget requirements.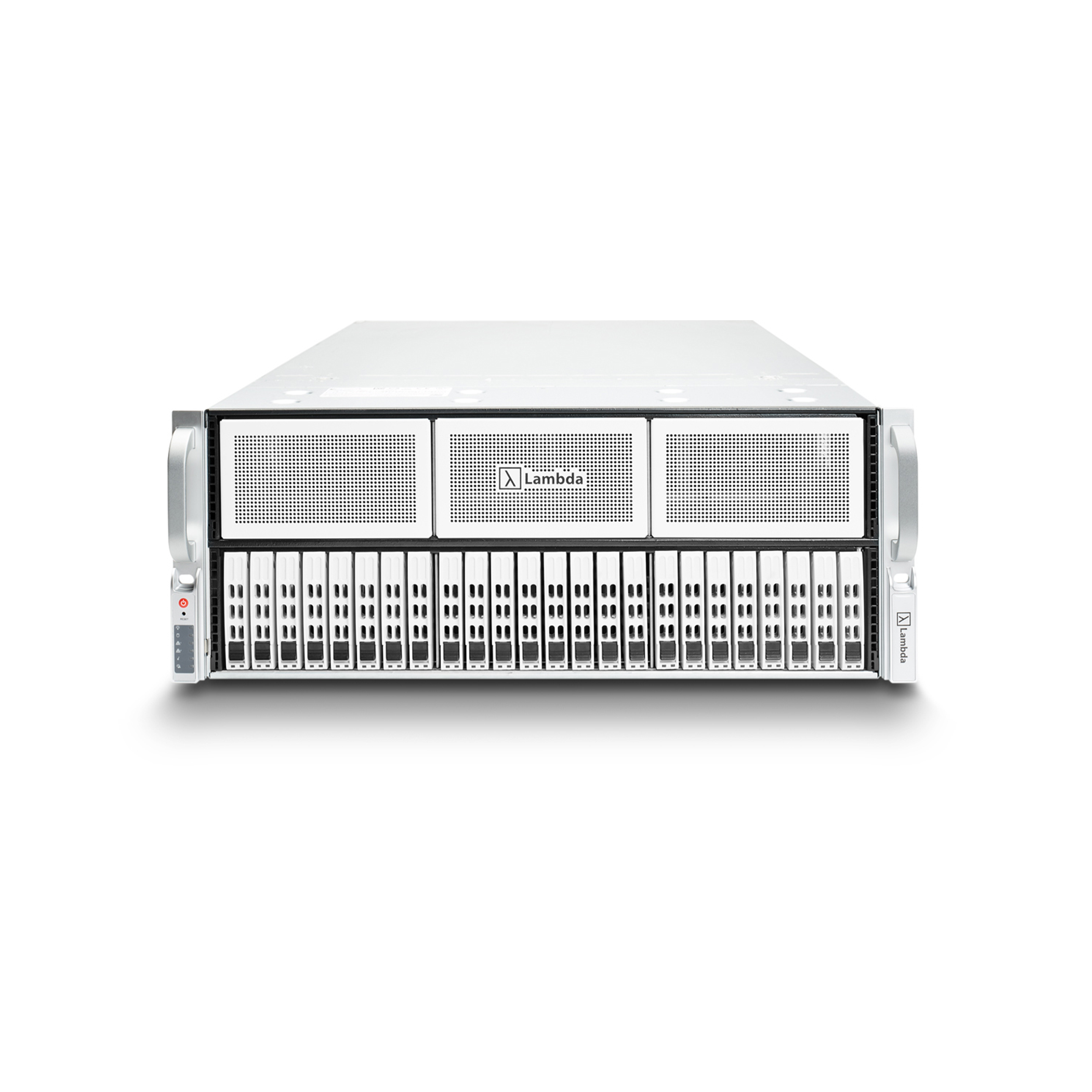 Lambda Scalar PCIe
Flexible PCIe GPU options including H100, A100, L40, A40, and A10 ideal for single GPU training or hyperparameter optimization. Flexible MLOps offerings include enterprise and open source platforms.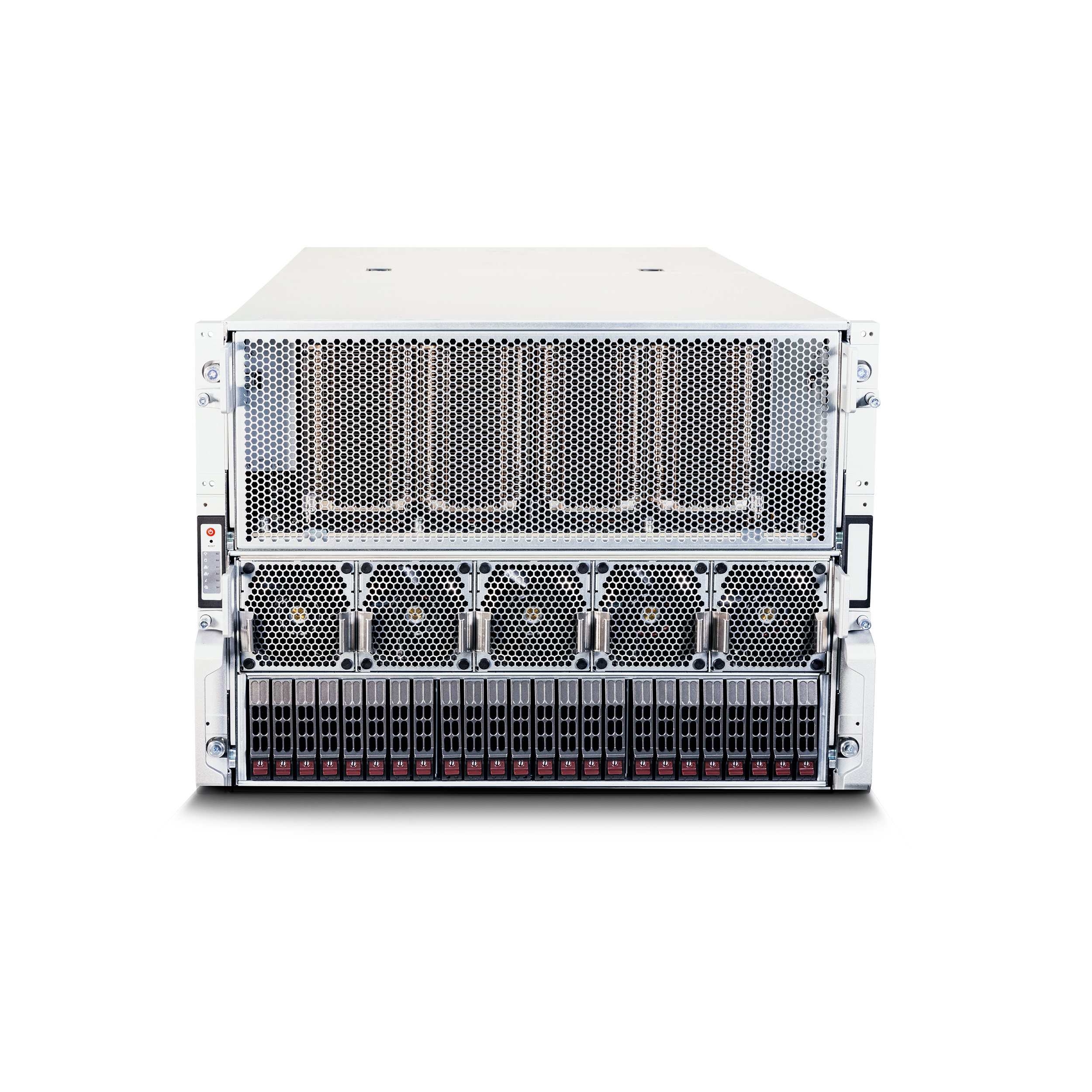 Lambda Hyperplane HGX
Highest performance NVIDIA H100 or A100 SXM GPUs with NVLink and NVSwitch fabrics ideal for distributed training. Flexible MLOps offerings include enterprise and open source platforms.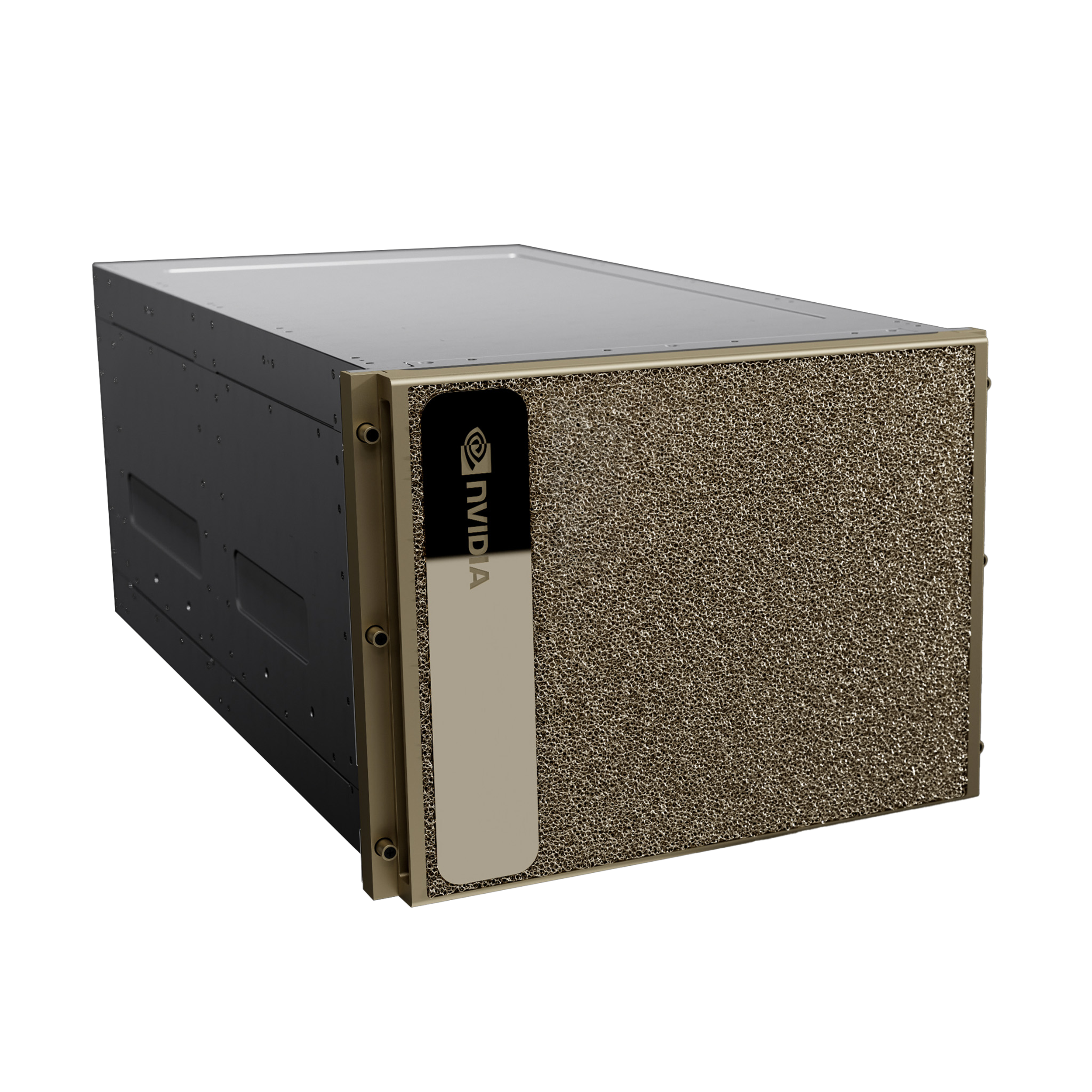 NVIDIA DGX Systems BasePOD and SuperPOD
Highest performance H100 or A100 SXM GPUs with NVLink and NVSwitch fabrics ideal for distributed training. NVIDIA BasePOD and SuperPOD architectures with NVIDIA AI Enterprise and Base Command platforms.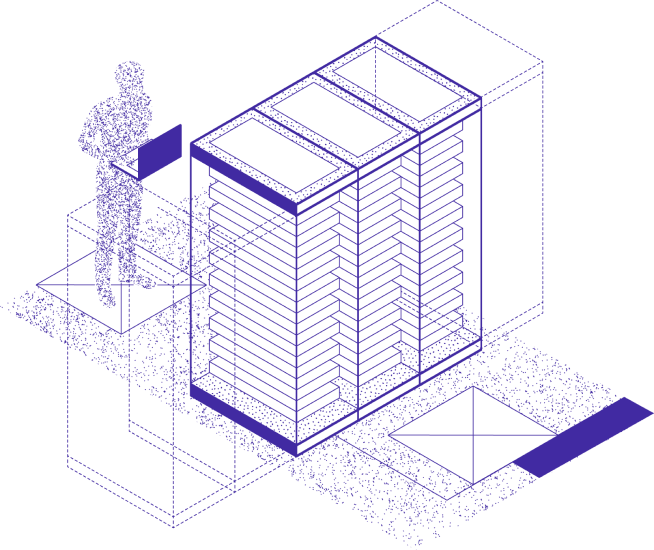 Service and support by technical experts who specialize in
ML and supercomputing
Lambda Echelon support includes:
Full stack support covering the compute, networking, storage, MLOPs and all supporting frameworks, software and drivers

Live technical support from Lambda's team of ML and supercomputing engineers with optional on-site services

Up to 5-year extended warranty with advanced parts replacement

Deep support from NVIDIA for DGX BasePOD and SuperPOD clusters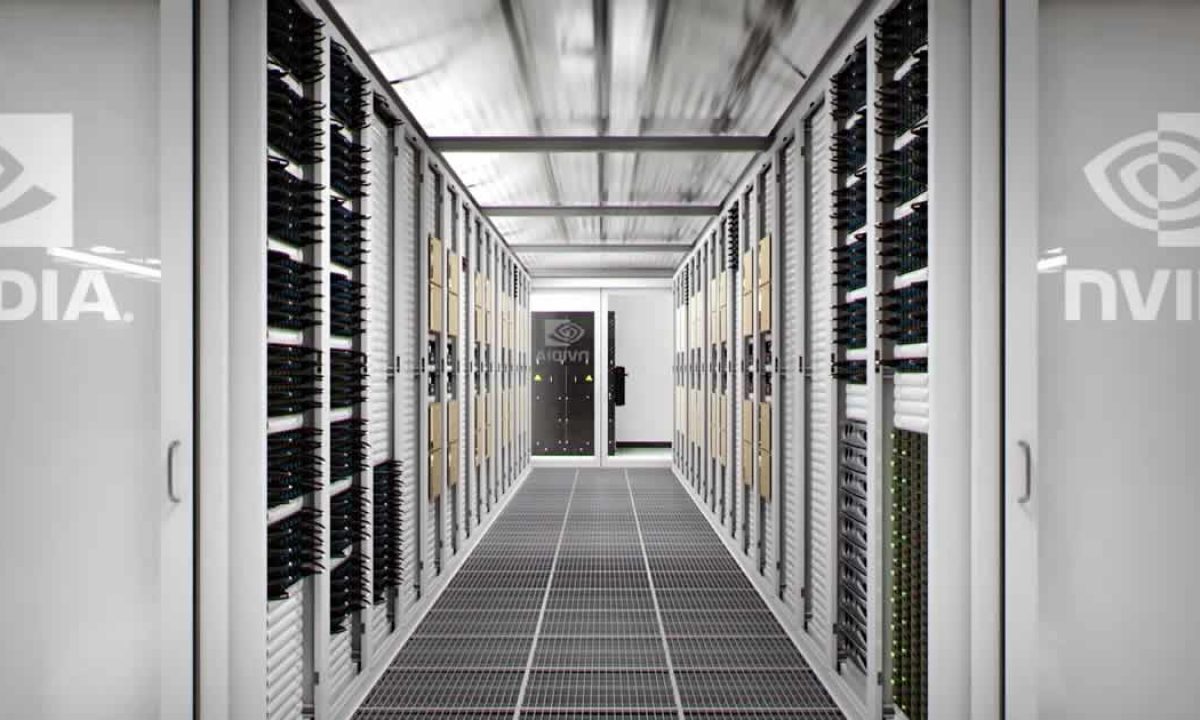 NVIDIA DGX SuperPOD™ with Lambda

The NVIDIA DGX SuperPOD is a turnkey AI data center solution designed for the scale of enterprise AI. Lambda's engineering, installation, and support teams deliver SuperPOD access instantly with Lambda Cloud, in hours/days in our data centers with Lambda Colocation, or in days/weeks in your data center with Lambda Echelon GPU clusters.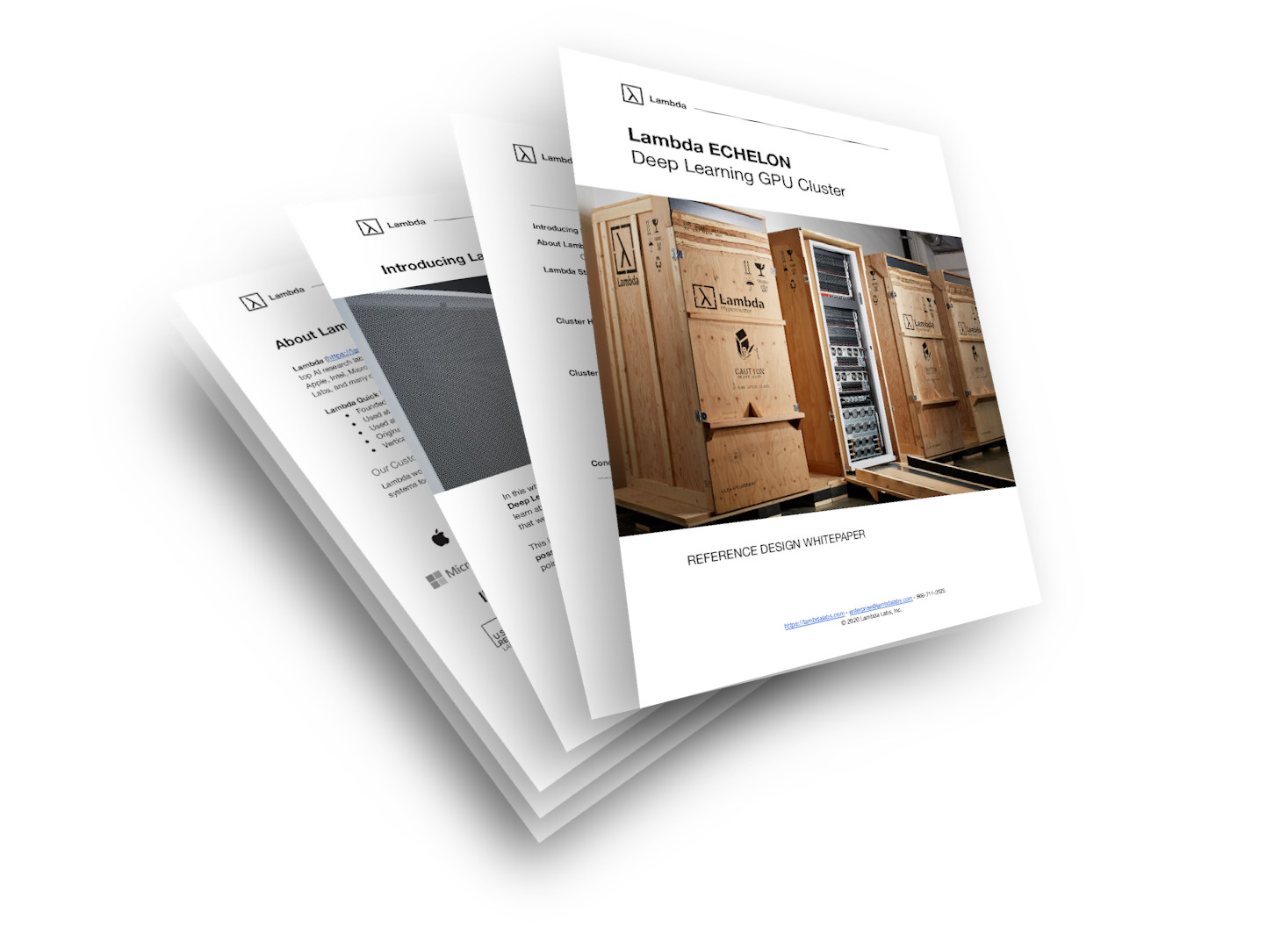 Download the Echelon white paper to learn more
Or, contact us to get an Echelon quote.