NVIDIA H100 Tensor Core GPU - Deep Learning Performance Analysis
---

Chuan Li
---
11 min read
---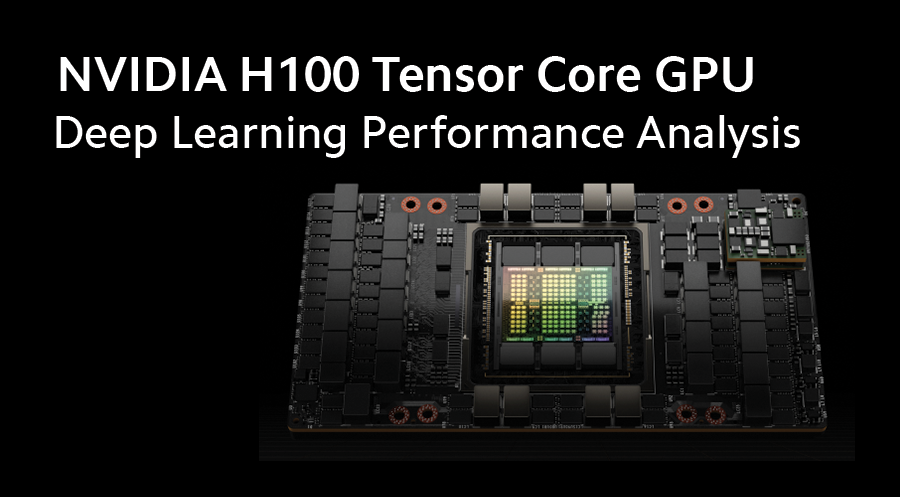 We have seen groundbreaking progress in machine learning over the last couple of years. At the same time, massive usage of GPU infrastructure has become key to success, particularly for work involving large language models and image models.
Because of this, we have seen lots of excitement around the new NVIDIA H100 Tensor Core GPU — the company's next-generation flagship GPU for artificial intelligence and HPC. This blog provides an overview of the performance and scalability of the NVIDIA H100 GPU and sheds some light on the whys and whens for upgrading your ML infrastructure with this upcoming big release from NVIDIA.
TL;DR
Compared to NVIDIA's previous-generation flagship A100 SXM GPU, the H100 SXM:
Overall, H100 offers an all-around upgrade for all deep learning applications and is optimized for the largest models, specifically transformer based, whether for large language, vision, or life sciences, that involve structured sparsity (transformers in natural language processing, vision, and drug design) and large-scale distributed workloads.
Performance
The NVIDIA H100 GPU is based on the new NVIDIA Hopper GPU architecture. Compared to its predecessor, the A100, H100 offers multiple key performance improvements:
Aggregating the first three improvements on the above list (Tensor Core, SM count, clock frequencies), we can expect the relative GEMMs (General Matrix Multiplications) performance of H100 over A100 on Tensor Core, FP32, and FP64 data types to be 3x for H100 SXM5 and 2.5x for H100 PCIe. Since GEMMs are a fundamental building block in neural networks, such an improvement will benefit most deep learning tasks, regardless of the models you work with.
When compounding the improvement with FP8 and Transformer Engine, we can expect the relative GEMMs performance of H100 FP8 over A100 FP16 to be 6x for H100 SXM5 and 5x for H100 PCIe — a very significant improvement for training and running inference with transformer models. In MLPerf Inference v2.1, an industry-standard measure of inference performance, the NVIDIA H100 and Transformer Engine delivered up to 4.5x more performance than the A100.
Scalability
So far, we have discussed the performance of a single H100 GPU, and now it is time to turn our attention to its scalability. The H100 introduces some cool features for better scaling:
On the operation side, there is a significant difference between the two H100 form factors. The max thermal design power (TDP) is 350W for H100 PCIe, close to the 300W TDP of its predecessor, the A100 80GB PCIe. However, H100 SXM5 supports up to a700W TDP. Nonetheless, H100 cards are also more "power effective" than A100 GPUs, with a 4x and nearly 3x increase in FP8 FLOPS/W over the A100 80GB PCIe and SXM4 predecessors, respectively.
| | | | | |
| --- | --- | --- | --- | --- |
| | A100 80GB PCIe | A100 80 GB SXM4 | H100 80GB PCIe | H100 80GB SXM5 |
| FP8/FP16 TFLOPS* | 624 | 624 | 3,026 | 3,958 |
| Watts | 300 | 400 | 350 | 700 |
| FP8/FP16 TFLOPS/W | 2.1 | 1.56 | 8.6 | 5.7 |
* A100 does not support FP8 data type. Comparisons are to FP16, the nearest precision supported on A100.
Quality of Life
Apart from the raw performance and scalability upgrade, H100 also makes resources management and utilization more efficient:
Best Use Cases
Having seen all these new features and improvements over performance and scalability, let us talk about what deep learning use cases benefit the most from an upgrade to the H100.
Interested in learning more? Stay up to date on availability, features and capabilities and other useful information about the NVIDIA H100 with Lambda.