Lambda Cloud accounts now support teams!
---

Kathy Bui
---
2 min read
---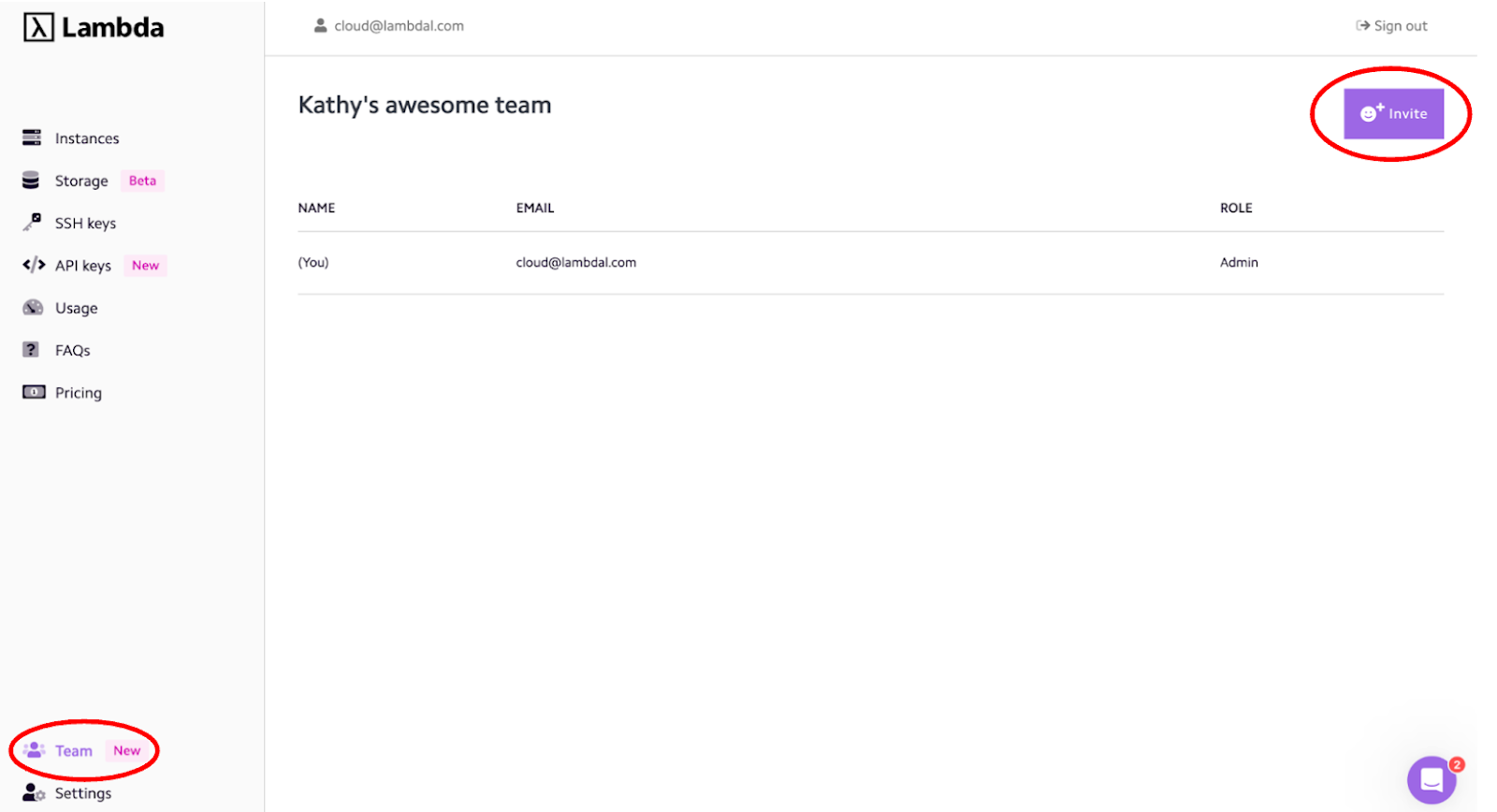 We're excited to introduce the Team feature to Lambda Cloud. You can now invite your team to join your Lambda account, centrally manage billing, and view each team member's monthly spend.
If you are part of a team at a company, startup, or even a class project, the Team feature on Lambda Cloud will allow you to work together.

You can now share resources under one team account while maintaining your individual logins.


Lambda Team features include:
Invite others to join your team on Lambda Cloud.
Multiplayer Jupyter Notebooks: all notebooks now launch with multiplayer enabled, allowing you to collaborate in real time.
Share resources: instances, notebooks, storage, and more.
Reduce administrative overhead by managing billing through a single account.
View your team's current resources and usage in a single account.
How it works
Creating a team

To create a team, simply navigate to the Team tab on the bottom left of the sidebar and click the "invite" button on the upper right corner.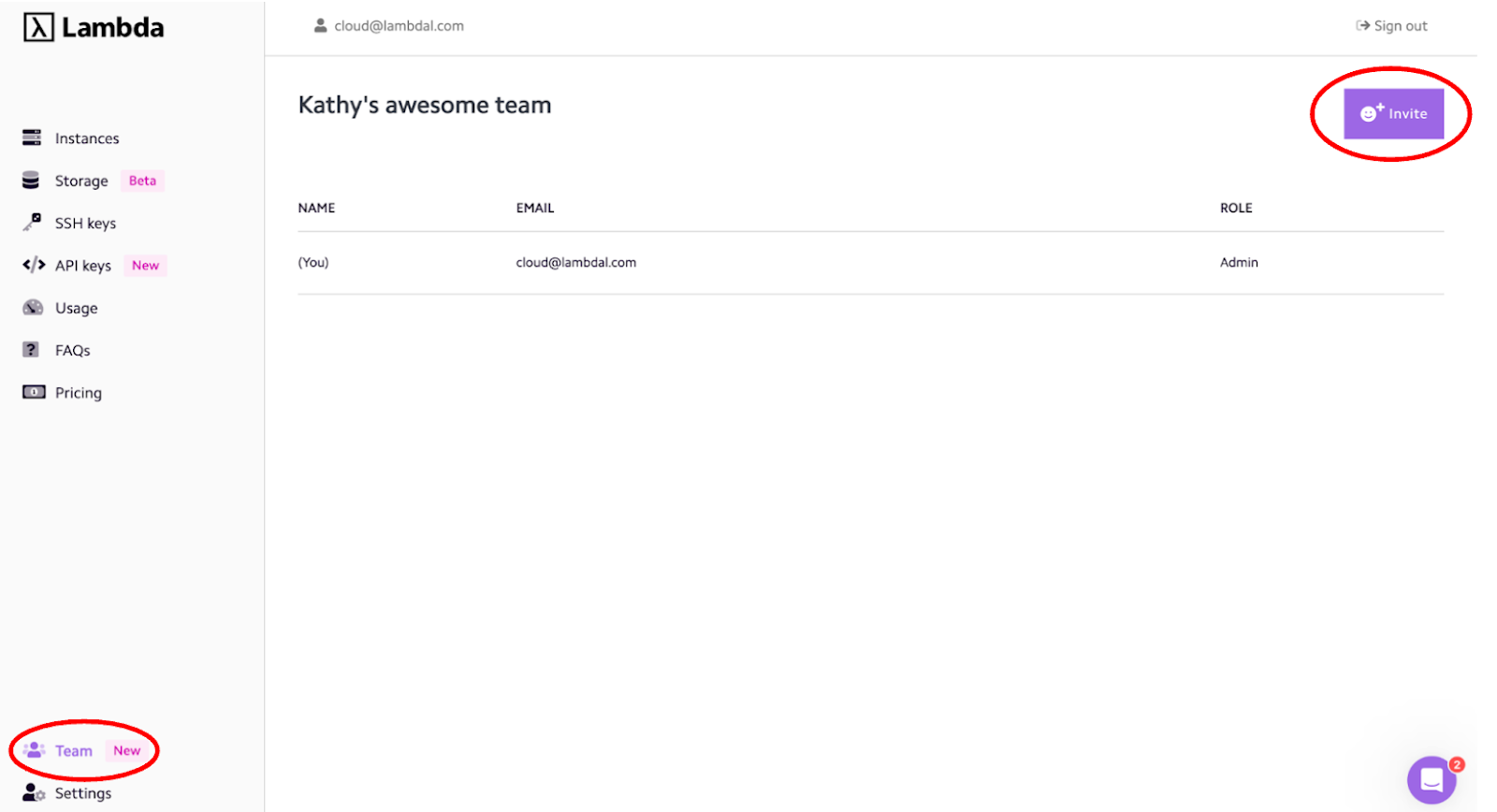 Enter the email address of the person you want to invite and choose one of two roles for the new team member. They can either be a member with no billing edit permissions or an account admin. Click "Send invitation" and you're on your way to building your team within Lambda Cloud!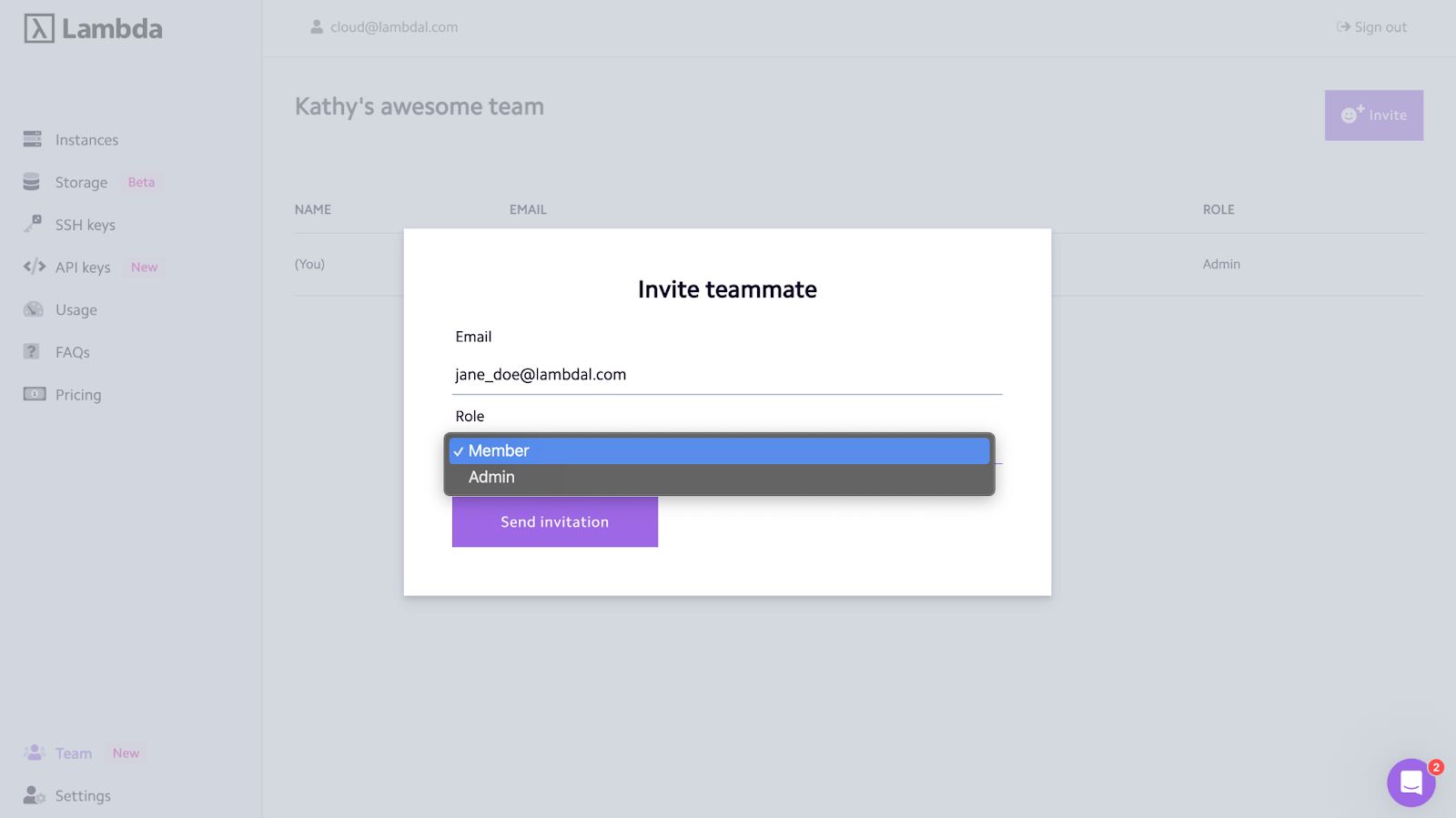 You can see pending invitations along with any other existing members on the Team page.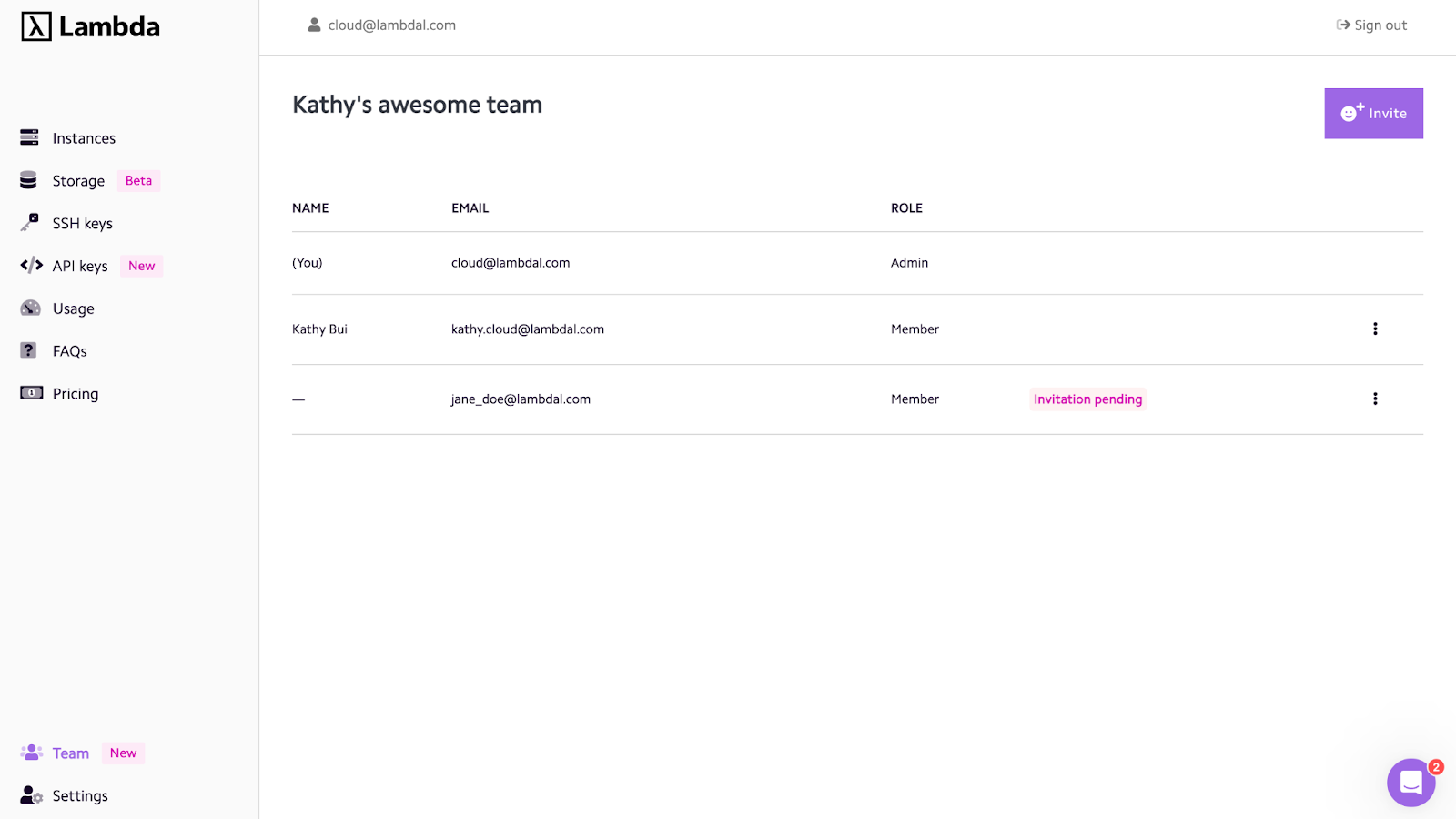 Seeing Team features
Once part of a team, you can see each other's instances, filesystems, SSH keys, and usage information.

For admins who want to keep track of usage, you can check how much each team member is spending under the "usage" tab in the sidebar navigation.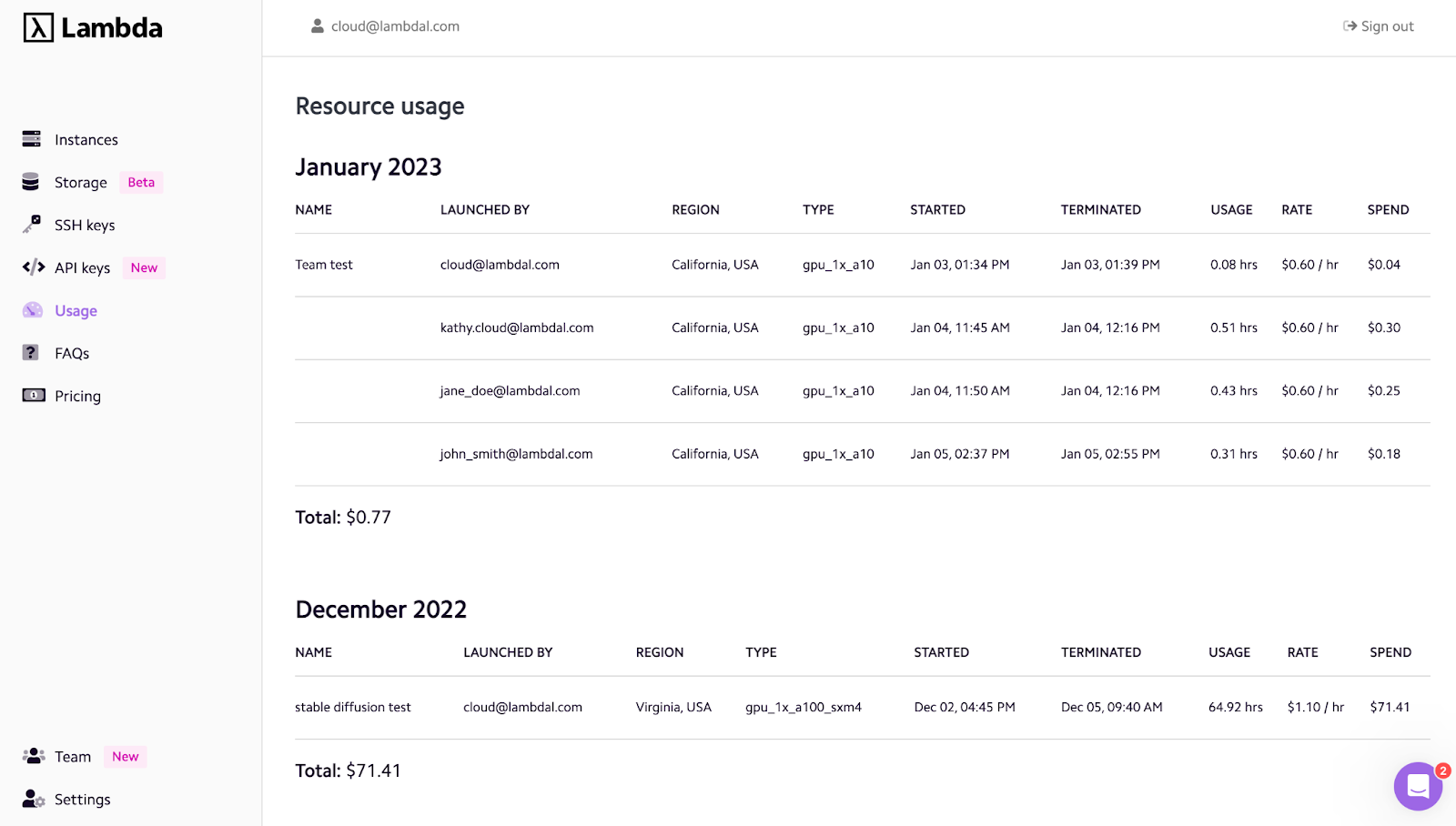 You can manage billing, change the team name and more on the Settings page. For further documentation on how to use Lambda Teams, see "How do I get started using the Team feature?" in our documentation hub.
Stay tuned for more useful but streamlined features coming throughout the rest of Q1 '23!